Chambres d'Hôtes Bourgogne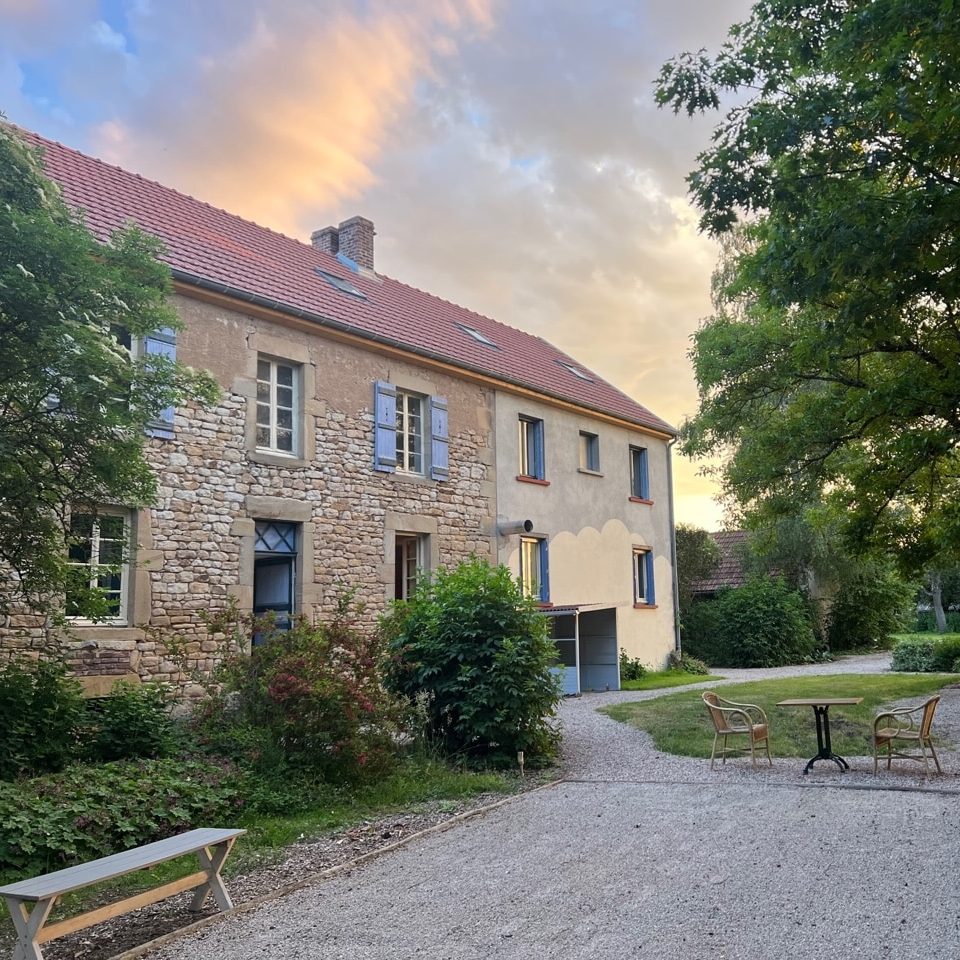 We invite you to stay in our beautiful Chambres d'Hôtes (B&B) in Burgundy and enjoy the surroundings, the house with its large garden and our delicious meals (Tables d'Hôtes).
The oldest part of Auberge Le Grillon was built in 1860 and was originally a nun's school. It is centrally located between the beautiful natural area of the Morvan and the famous wine region of the Cote d'Or (Burgundy).
There are three rooms on the second floor and two more rooms on the second floor. All Chambres d'Hôtes rooms have their own bathroom.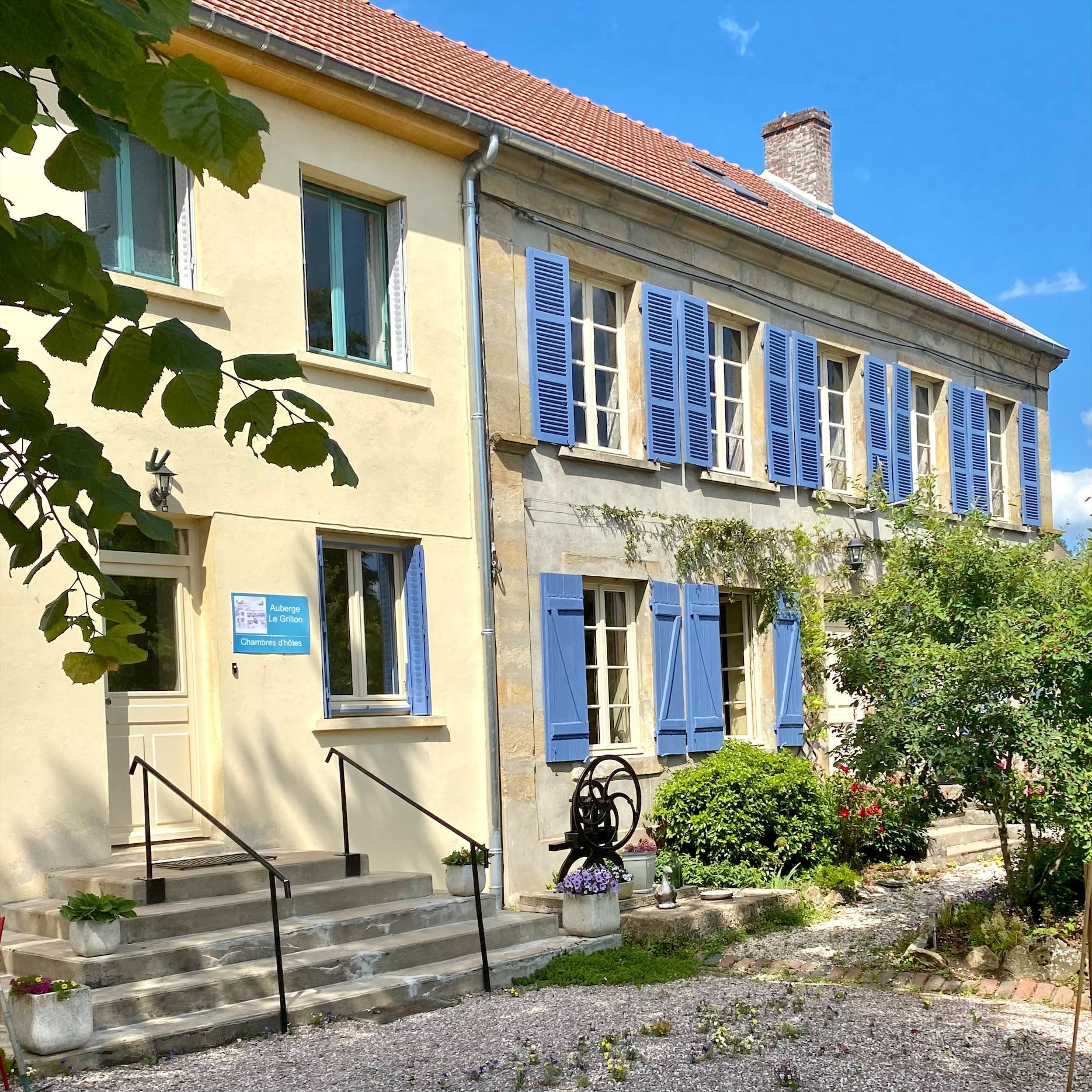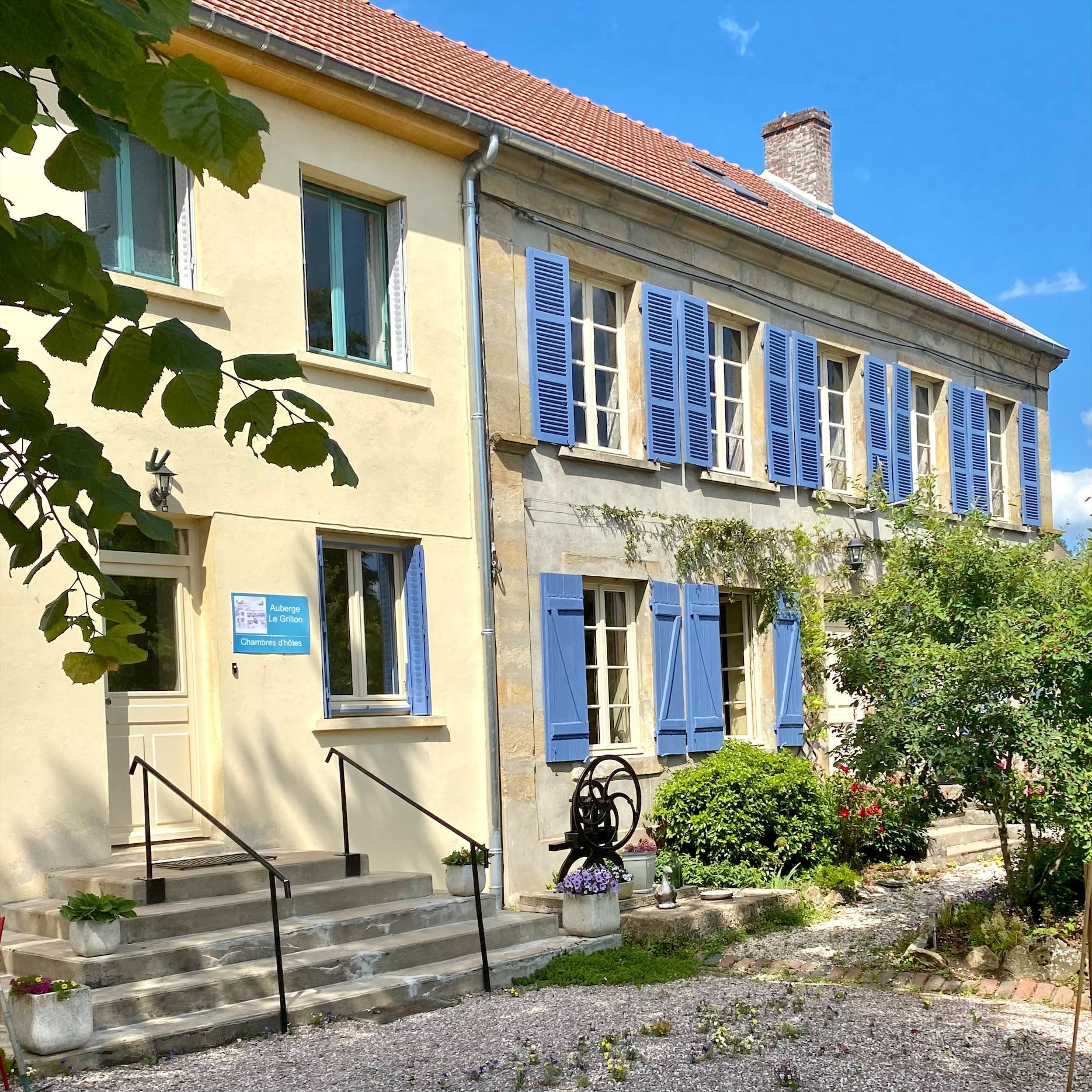 Weather permitting, we like to serve breakfast (Chambres d'Hôtes / B&B) and dinner (Tables d'Hôtes) in the garden. If the weather does not allow it, we serve dinner in the cozy dining room.
In our spacious living room you can sit comfortably with a magazine or a good book. We have several board games in the cupboard. Or see what there is to do in the area in the extensive information corner.
In the large garden you can find a place to relax, in the sun or in the shade of the walnut tree.
In the immediate vicinity there are endless hiking and biking opportunities. The beautiful nature, green hills, vines of Burgundy, gurgling streams and farm life in the area can still surprise us.
With a temperate continental climate, Burgundy is great from April through October. But Burgundy is also worth a visit outside of these months. Come visit us and find out for yourself!
We enjoyed our stay in your beautiful B&B. The delicious breakfast, dinner and the enormous hospitality that we have experienced with you. Thank you so much and we will be back next year!

Best of luck in the future with your wonderful B&B.

Oct. 20, 2022
We had a wonderful time in your B&B. Thank you for your hospitality, helpfulness in picking bike and walking routes and the cozy chat.

Dinner was a treat every night and our packed lunch was a new surprise every day.

The surroundings are very beautiful and the wine is good to drink.

Very good luck for the future but we are not worried about that. You are excellent hosts. All the best and when we are in the area we would love to come and stay again.

September 2022
All three of us rave about our stay here at Auberge le Grillon. Cozy welcome, fine rooms c.q. beds. Dinner and breakfast, delicious, extensive and very good taste.

We wish you success for the future and perhaps we will return to this wonderful establishment next year.

September 2022
We have now enjoyed your hospitality for the 2nd time. The food was again a treat.

Thanks again for everything. it was fun!

September 2022
What a pleasant time we had with you and how spoiled we were! Good food, great cycling and enjoyed the surroundings.

Thanks for everything and who knows, see you soon.

September 2022
We had a wonderful week of hiking around Sully.

But the most wonderful thing was the warm care from you, with delicious drinks and special, tasty meals.

A feast it was.

September 2022
You are never too old to set another goal or to dream a new dream.Super thanks for all the care and the warm welcome.

Delicious food, a super nice evening.

Until next time!!!

August 2022
You are never too old to set another goal or to dream a new dream.We had a very good time in your cozy B&B. You are great in explanation - cooking - wine knowledge...

Who knows until another time.

August 2022
You are never too old to set another goal or to dream a new dream.What a wonderful time we have had here. The days have flown by.

A friendly welcome, fantastic food )star worthy= and an ideal location. The peace and quiet did us good.

All the best to you and keep up the good work!

July 2022
With thanks for courage, belied, faithfulness, hospitality, inspiration etc. etc. etc. ...

I gave julli 10 michelin stars in May. Jacqueline, you didn't lose a single star. It all tasted great again. An ideal combination with Clemens' wine knowledge. In short, all good again!!!

July 2022
How nicely we were welcomed with a drink outside in your immense garden. And that vegetable garden, great.

Had another look at the castle.... super and heard stories from Clemens about it.

Jacqueline the chef, it was a wonderful restaurant.

Sleeping in a nice bedroom, morning breakfast and our packed lunches.

Thank you very much for the hospitality.

July 2022